We asked our media specialist, El from Liberty Communications, what brands can do to enhance their digital performance by harnessing the power of broadcast and out-of-home media.
Nailing your digital strategy and demonstrating measurement and effectiveness online is a great achievement. All businesses these days are employing tactics online which will increase web traffic, engage with their customers and ultimately sell product. The PPC and SEO is performing well, the digital display working, your social posts are regular, and content is priority – so how will you take your brand to the next level to enhance performance across all channels?
Some local print? Maybe some tactical out of home? How about radio and TV?
Many businesses think broadcast media in particular is out of reach cost wise. Fair enough, this time 10 years ago it often would be, but the developments in TV for example, mean budgets don't have to be massive. Here's a couple of ideas for an advertiser wanting to dip their toe into broadcast media alongside their digital activity without breaking the bank.
TV Advertising
Adsmart enables geo-targeted (down to postcode, local authority area or town) TV advertising on Sky and Five channels in both Sky and Virgin homes which can also have demo & mosaic targeting layered over it. They have a minimum spend of £3k and if it's the creative costs putting you off, you can have a decent quality ad made locally for around £5-7k these days depending on content.

With Adsmart, the ad is fed to the customers Sky or Virgin box and if they fit the demo and geo targeting applied the commercial plays when they're watching. They don't know it's different, it's a seamless replacement for the commercial playing to everyone else.
The data held, which is the fascinating part for a media planner, can target via mosaic types or draw from Tesco Clubcard, Boots Card or Emma's Diary thus eliminating audience wastage.
As a working example, a Sky Adsmart campaign over 4 weeks targeting 3 postcode areas and affluent home owners 40+ would deliver 297k impressions in nearly 50,000 homes for around the £15k spend mark. Surprised?
How about VoD? Broadcaster VoD is certainly growing enough to be a viable advertising option and costs are controllable given it's buyable by impressions like digital.
The Ofcom commissioned Ampere Analysis report indicates that for Q1 2017, 60% of the average respondent's daily viewing time was through traditional broadcast mechanisms, with this proportion dropping to less than 50% by Q1 2019. At the same time, and not coincidentally, each category of VoD service increased its share.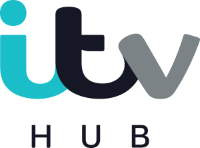 ITV Hub is the biggest of the UK Broadcaster VoD options with 8.8m homes using it monthly. It's targetable by region and demo and can give a smaller advertiser access to some of the biggest shows on TV like X-Factor, Love Island and Coronation Street – something they probably couldn't usually afford to do otherwise. It's also non-skippable.
The use of ITV Hub varies by programme type. For example, the recent ITV drama Unforgotten was watched 79% live and 21% on demand, yet the ITVBe reality show Sam Faiers Mummy Diaries is watched 51% live and 49% on catch up. It's not just the younger viewers using these services either. ITV Hub is really equally split age wise as you can see below.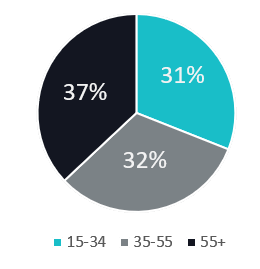 Again, as a working example of cost and dependent on targeting layers, 250,000 impressions on the Hub would cost around £8k.
Radio Advertising
Radio advertising also works really well alongside digital. Apart from your traditional FM regional and local stations, digital audio advertising offers the chance to regionalise national stations like RadioX and Classic FM and advertise to those listening through mobile, smart speakers or online. DAX and Instream, Global and Bauer's offering respectively, can also offer the geographical, demographic and interest targeting making this better for eliminating wastage and it's also bought via cost per 000 so your budget can be anything from £1k to £10k.
The main point to remember here is that improving your brand awareness by moving into offline media is only one side – offline advertising is also proven to boost your online performance. A RadioCentre study showed that radio advertising can boost brand browsing by up to 52% and a GroupM study discovered that TV is drove an indirect response through online channels, generating 33% of media-driven sales via paid-for online search; 26% of media-driven sales via online display and a fifth of media-driven sales via affiliate marketing.