Covid-19 has caused an extraordinary attention shift from the physical to the virtual. Families stay together via zoom, entertainment is streamed through Netflix, theatre culture is broadcast via youtube and the consumer heads to the online storefront to satisfy their retail needs.
It's fair to say that this shift has forced companies to think and act differently heading into the spring and summer retail season of 2020. According to Growth intelligence, over 85,000 businesses have launched online stores or joined the online marketplace in the past 4 months.
We've also seen key advertisers such as Facebook fast-tracking its Shop platform and developing a partnership with Shopify to capitalise on this increased, almost instantaneous demand.
During this major attention shift, Perfect storm has been helping its clients pivot by providing digital solutions directed towards this shifted consumer attention.
The Problem
James Wellbeloved are a treasured and well established brand in the UK pet food community. They have strong links with physical retailers such as Pets at Home. When the Pandemic began to rear its ugly head, the supply chain was affected in three significant places:
From the factory to the retail outlets
The retail outlets were experiencing staff shortages and reduced working hours
Online partners were experiencing significant delays with their suppliers
Like many brands, James Wellbeloved had to move quickly to address the vulnerabilities in their supply chain and match the increased demand for people stocking up on their high-quality pet food.
How we Helped
After consulting with the key stakeholders at James Wellbeloved it became apparent that a quick pivot to a direct consumer offering would be key for protecting their market share, whilst hoping to capitalise on reaching a younger target audience through the convenience of a subscription-based offering.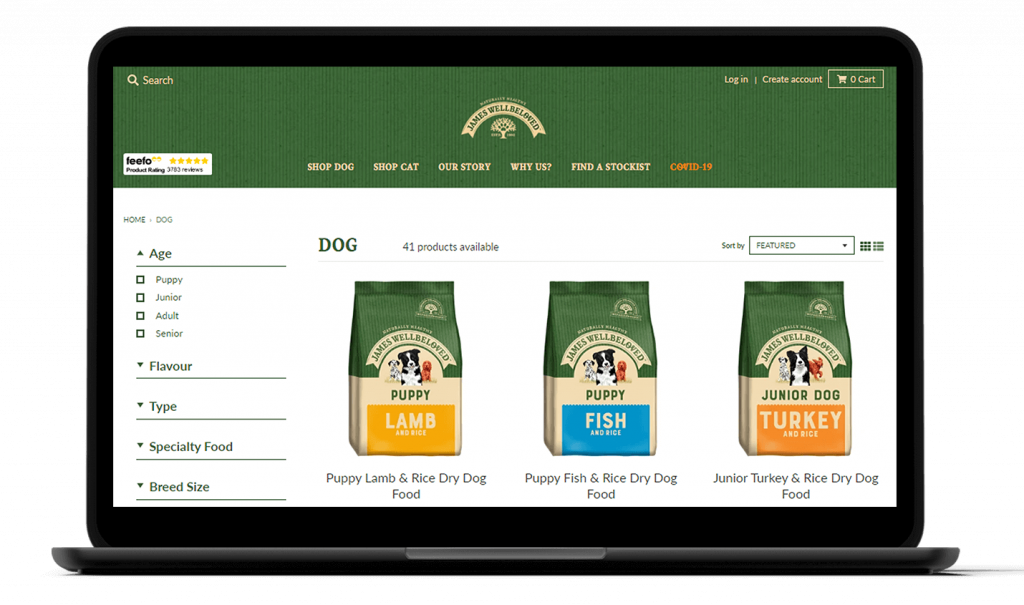 What we did
The Wellbeloved brands online presence is managed through its bespoke WordPress site. This has done a great job at showcasing the product portfolio, directing customers to stores and providing useful content for pet owners.
It was important that we provided a bespoke solution that retained the investment in the current website, whilst successfully pivoting to a ecommerce proposition.
UX planning to work through new user journeys, focusing on a streamlined path to purchase rather than content consumption
Refocused designs to transform the brand website into an ecommerce solution
Technical briefing and consultation in the development of the ecommerce platform
The Result
In under four weeks from the initial brief to go live, we helped James Wellbeloved successfully launch their ecommerce platform. We are now monitoring user activity and demand trends to further improve the user experience over the coming months.

Can we Help?
With the uncertainty that currently surrounds physical retail are you considering better ways to get your product/service in front of customers? Get in touch to see how our team of experts could help.